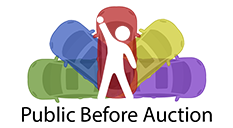 A Public Before Auction (PBA) vehicle is a unit we normally would send to a dealer-only
auction. It is a vehicle that didn't meet the standards that we adhere to each pre-owned
vehicle we choose to sell on our lot. However, due to the public's increased interest in
purchasing these types of vehicles, we're now happy to be giving you the chance to
purchase these vehicles before we send them to the auction. These vehicles are generally
higher mileage, older, and lower-priced. They are sold AS-IS without ALL repairs complete.
That means no warranty. But that also means a lower price. But keep in mind,these vehicles
are in a limbo of sorts. If they're not sold withina short time-frame from when we receive them
(generally 10-14 days), we'll be sending them to auction, and they will no longer be available to the public.
Why buy PBA?